Summary: Radical Candor: Be a Kickass Boss without Losing your Humanity
Kim Scott shows how "radical candor" can be used in the workplace to give better feedback and meaningful praise and criticism.
You'll Learn:
How to care personally while challenging directly
Three important conversations that you should be having at work
An approach to giving better feedback to your boss
About Kim
Kim Scott is the author of Radical Candor: Be a Kickass Boss without Losing your Humanity, a NYT and WSJ bestseller, published by St Martin's Press. Kim is also the co-founder and CEO of Candor, Inc., which builds tools to make it easier to follow the advice she offers in the book. She is also the author of three novels and co-host of the Radical Candor podcast.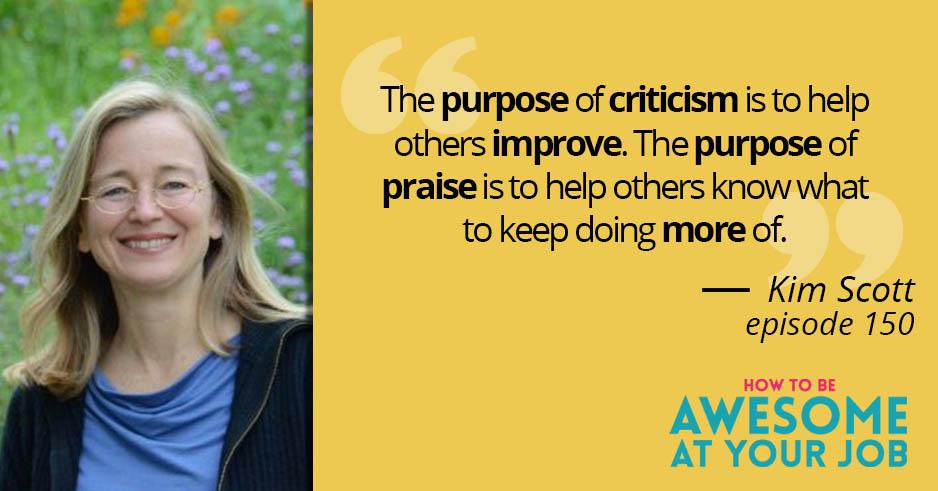 A New Management Philosophy
Bosses achieve results not by doing everything themselves, but by guiding a team to do so. Thus, they must excel in their own work and 3 key areas:
Guidance: soliciting and offering constructive feedback, and encouraging feedback between people;
Team-building: putting the right people in the right roles and keeping them motivated; and
Results: managing the people on your team to deliver results.
At the heart of all 3 roles is this: you need a trusting relationship with your direct reports. Radical Candor is about building such trusting relationships by working concurrently on 2 dimensions: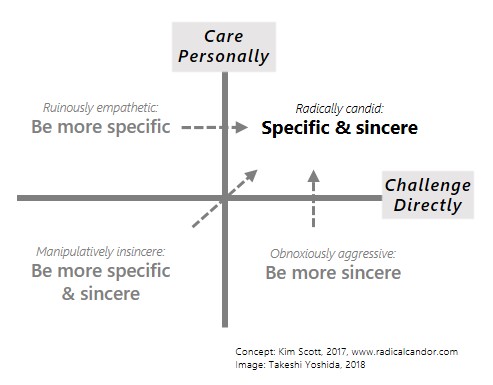 Care personally: Bring your whole self to work, and care about each of your team members as whole persons with lives and aspirations beyond their work.
Challenge directly: Give/receive feedback, make tough decisions and uphold high standards. Eventually, trust and understanding is built and people feel safe to challenge one another to solve problems and uphold standards without your intervention.
In a nutshell:
To exercise Radical Candor, you must give people clear, honest feedback (be it a praise/criticism) for their benefit, and help them to understand how the feedback can help them to move toward their own goals and dreams.
To do that, you must first understand your team members/ direct reports and what they truly want. Most of us tend to define ambition and potential in terms of people's desire and ability to move up the hierarchy. Instead, it may be better to rethink ambition and potential in terms of growth. In any organization, you'll find superstars and rock stars—Superstars want a steep growth trajectory with challenges and opportunities to grow and learn rapidly (though not necessarily get promoted), while rock stars are solid, love their work, are good at their craft and prefer a gradual growth trajectory (they won't be happy if they're promoted to other roles). You need both superstars and rock stars for a blend of growth and stability. In the book /  complete summary, we dive deeper int the concept of growth management and how exactly to use it to manage top performers (both rock stars and superstars), middle performers and underperformers.
To drive results as a boss is essentially about getting people to achieve more collaboratively than individually on their own. Scott introduces the Get Stuff Done (GSD) wheel which comprises 7 sequential steps to involve your team in decisions and get buy-in for better long-term results: Listen, Clarify, Debate, Decide, Persuade, Execute and Learn. In the book / full book summary, we break down the details for each of these steps and how the whole GSD wheel works.