3 - Dublin, Ireland 11 - 10:00 - DoDublin Bus hop on
9:30 am - 3:30 pm
VOUCHERS FOR TICKETS PURCHASED ONLINE MUST BE PRINTED OUT AND CANNOT BE ACCEPTED ON SMARTPHONES OR TABLETS.
First bus departs from Stop 1 at 9am.
Last tour at 17:00 from Stop 1.
Buses every 15 minutes.
$44.38
Sights (prices updated Mar 2019)
Guinness Storehouse - This old brewery building has a self-guided tour on the history of Guinness beer and how beer is made. Enjoy a free pint and the view from the Gravity Bar with your admission. Entry €23 (discounts if pre-purchased online). Take the Luas to James's Station, or bus 123 from O'Connell or Dame Street (every 8-10 min). http://www.guinness-storehouse.com
Christ Church Cathedral - Located on Christchurh Pl. Entry €7. http://www.christchurchdublin.ie
Kilmainham Gaol - One of the largest unoccupied jails in Europe 3.5km from the city center and a top tourist attraction. Several bus routes to get to the area. A route which stops directly in front is the 69 bus. You can catch it on Fleet St (at the corner of D'Olier St). Or walk north from Suir Road Luas station. Entry €8 guided tour with timed tickets. http://www.heritageireland.ie/en/dublin/kilmainhamgaol/
Trinity College - Take a peek from Grafton Street. Tours available for €14 (discounts for pre-purchased online tickets) includes Old Library and Book of Kells. https://www.tcd.ie/visitors/book-of-kells/
Old Library and Book of Kells - A popular attraction located inside Trinity College. Entry fee €6 . http://www.tcd.ie/Library/bookofkells/
St Patrick's Cathedral - Entry €7. http://www.stpatrickscathedral.ie
National Museum of Ireland - Take a quick peek at the bog bodies (left section, ground floor when you enter) before returning to your ship by shuttle on Kildare St. Free entry.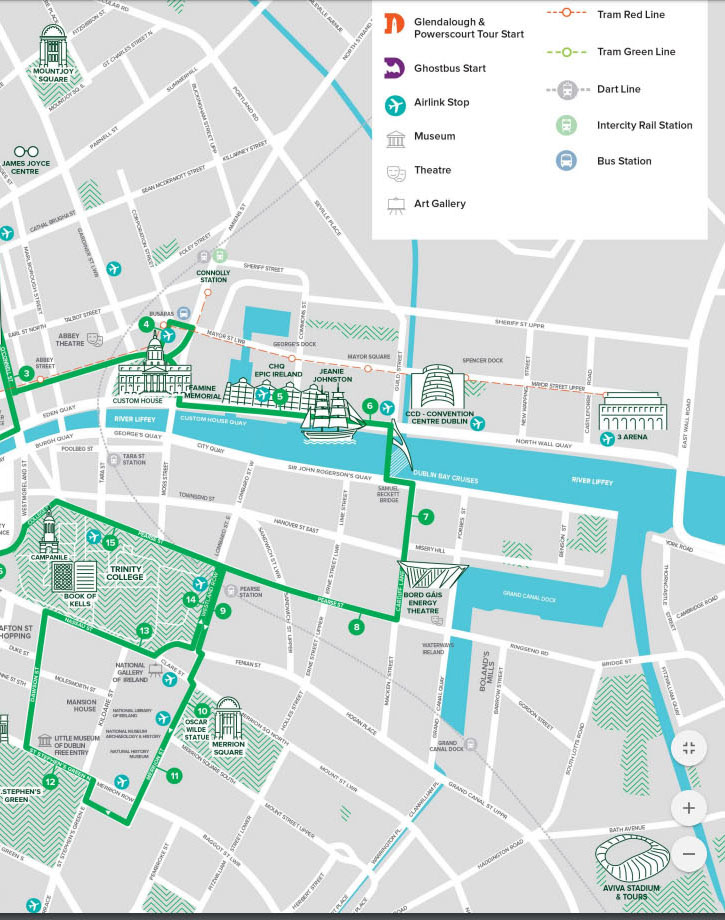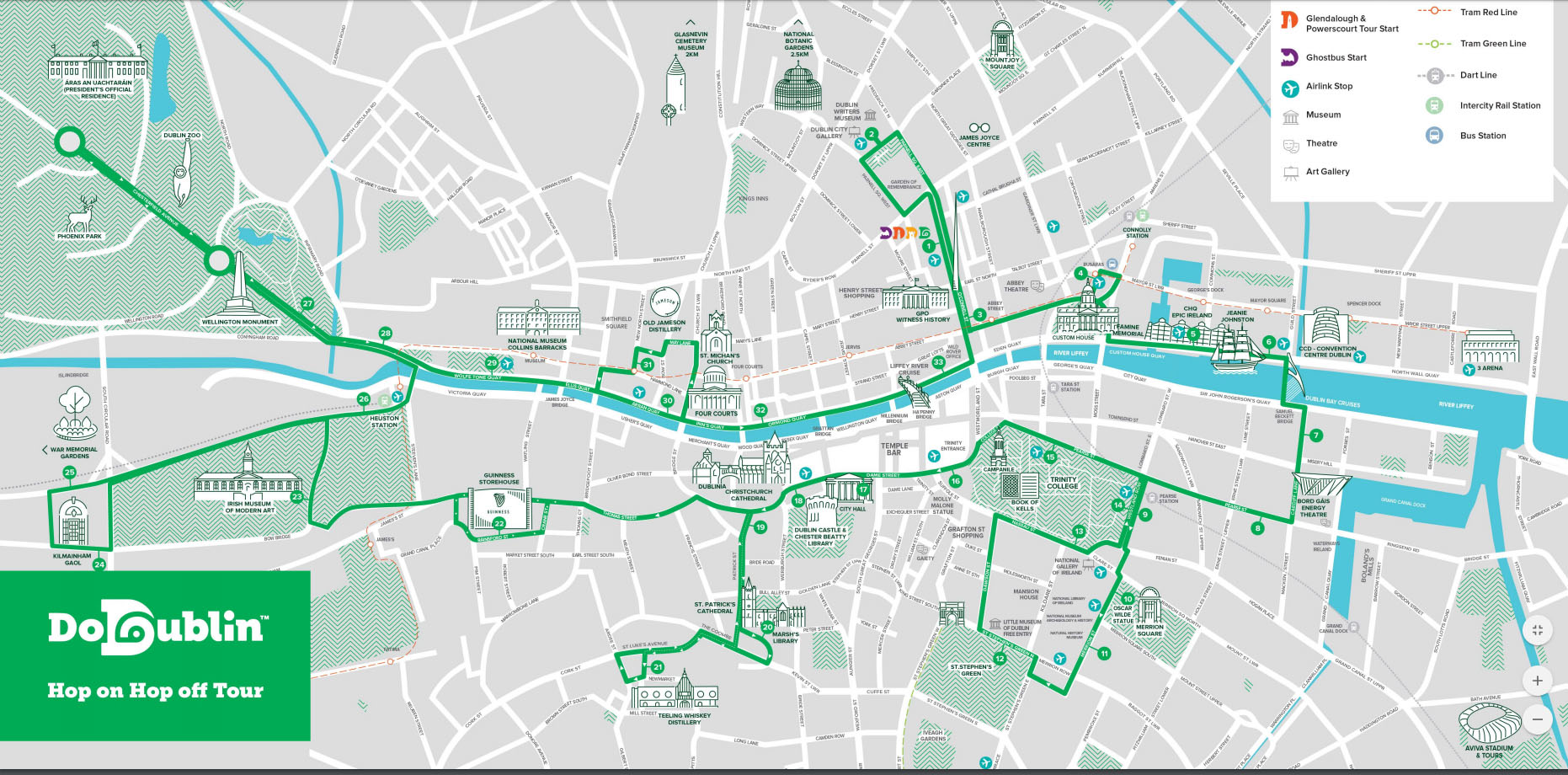 St. Patrick's Cathedral Built in honor of Ireland's patron saint, St. Patrick's Cathedral is the largest church in Ireland. It is said to be one of the earliest Christian sites in Ireland where St. Patrick baptized converts.
Trinity College Trinity College is Ireland's oldest university and one of the great universities of the world. Trinity College Library is the home to the Book of Kells.
Guinness Storehouse and/or Visiting a Pub Dublin has over 1,000 pubs and several hundred types of beers. St. James's Gate Brewery, a brewery founded in 1759 in Dublin by Arthur Guinness, is today the largest brewer of stout. The Guinness Storehouse is Ireland's number one visitor attraction and tells the story of the "black stuff".
Dublin Castle Dublin Castle represents some of the oldest surviving architecture in the city, with its 13th-century record tower and State Apartments, once the residence of English viceroys.
Malahide Castle From 1185 until 1973, Malahide Castle was the home of the Talbot family. Today, it's one of the oldest and most historic castles in Ireland.
Glendalough A monastery set in a spectacular natural setting, Lonely Planet Ireland calls Glendalough "truly one of the most beautiful places in Ireland and a highlight of any trip to the island."
Powerscourt Powerscourt is set in the graceful Wicklow Mountains. As one of the most beautiful country estates in Ireland, its grounds boast the highest waterfall in Ireland.
Causey Farm Located near Navan in County Meath, this family-owned farm is in the heart of Ireland's rich grasslands. Causey Farm raises sheep and cattle as well as a small herd of Connemara ponies.