5 - Glasgow (Greenock), Scotland - Inverclyde Tour (Free)
Inverclyde Tourist Group 
 As you enter the cruise terminal you will see tartan clad volunteers who will guide you to the tour booking desk. As said there are three on offer with different times. 
For passengers who have decided to spend the day in Greenock, we offer short guided coach tours to provide a glimpse of what our local area has to offer.
Our unique tours are guided by volunteers who are all knowledgeable local people. Each lasts about 2 hours and starts and ends at Greenock Ocean Terminal. All return in plenty of time for ship departure.
There are three different tours at different times throughout he day; starting from about 9:15am onwards. They are very popular and we use small coaches to create a relaxed atmosphere, but this means places are limited. If you wish to come on one of our tours please speak to any of our tartan clad volunteers at the Greenock Ocean Terminal or call at our "bus ticket desk" inside the building.
To be fair to all passengers it is usually possible to book only one tour, so please read the descriptions of the tours below and decide which you would like to experience. The tours are free (all tourist group members give their help without pay) but since we must pay the cost of the coaches we invite donations for this expense. There is a donation box on board each coach. We accept foreign currency as well as pounds. Please note that there is a small entry charge for the castle on the Newark tour, which we collect at the ticket desk and pass on to Historic Scotland who run the castle. You can pay this in pounds, euros or dollars.
Gourock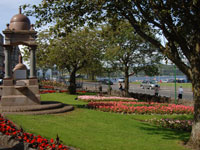 This is a scenic tour giving you an opportunity to see the countryside of rolling hills, woods and farms.
Your trip begins with a visit to the Lyle Hill which gives a spectacular view of the Firth of Clyde and the surrounding hills. This area was important in World War 2 and the Cold War, and your guide will tell you something of this.
You will then travel through the countryside to the historic village of Inverkip where there is a marina with wonderful views across the water. Returning by the scenic coastal road following the River Clyde you will pass the Cloch Lighthouse, built in 1797. If weather permits, we will stop in the seaside town of Gourock.
Before you reach the Terminal again you will drive past large stone houses built in the 19th Century along the magnificent Esplanade beside the River Clyde.
Throughout the tour, your guide will describe what you are seeing. But you will also hear stories relating to our area, some may be taken with a pinch of salt!