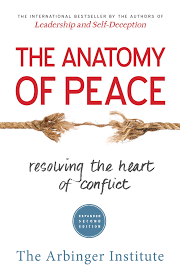 The Anatomy Of Peace will help you make your life and the world more calm by explaining the inefficiencies in our go-to pattern of using conflict to resolve differences and giving specific tips for how to use understanding to settle issues.
Do you remember the last conflict you were part of? Perhaps it was a difficult spouse, struggling teenager, or an annoying neighbor. These days it's hard for anyone to come out on top in these situations. Usually bringing up an issue just makes people point fingers at you!
But realistically, it takes two people to sustain a fight. Unfortunately for you that means that you are at least a little to blame for the quarrels in your life. But what parts of the disagreement are you responsible for? And better yet, how can you end the conflict peacefully?